Did You Know?
Our website has over 5,000 travel photos of our exciting World War II Tours. View and share our photos online for free - and even comment on the photos, share to social media, or send to a friend's email! Our galleries also have a cool slideshow feature.

» Go to Photo Center








Wolf's Lair Tour

---


Tour Highlights:
• Enjoy many WWII sites other Tours don't visit
• We spend two days exploring the Wolf's Lair
• We overnight in a 13th Century Polish Castle
• We include a visit to famous Malbork Castle
• Experience counts! We have operated World
War II Tours in Poland for over 10 years

What's Included:
• 12 Nights in 3 and 4 Star Hotels
• 9 Dinners and Breakfasts daily
• All transfers by deluxe Motor Coach
• All entrance fees and local taxes
• Visit the Malbork (Marienburg) Castle
• Tour of the "Wolf's Lair" Headquarters
• Visit the Mamerki (Mauerwald) Bunkers
• See the former Rastenburg Airfield
• Warsaw City Tour with Memorials
• Visit the Warsaw Rising Museum
• Polish Dinner and Live Folklore Show
• See Schindler's List sites in Krakow
• Tour of Auschwitz and Birkenau Camps
• See the Gleiwitz Border Radio Station
• Visit an underground "Riese" Bunker
• See Gross Rosen Concentration Camp
• Tour the Great Escape POW Camp
• Berlin City Tour with Third Reich sites
• See Brandenburg Gate and Pariser Platz
• Visit the German Resistance Museum
• See Valkyrie movie set locations







Tour Dates:
May 18 - 31, 2016
SOLD OUT

Tour Price:
USD $3995 ppdo
USD $4795 ppso
Details | Terms

Tour Features:
13 Day WWII Tour
through Poland;
Berlin to Wolf's Lair



Very Popular Tour!
Don't Delay, Book Today


How to Book:
It's easy to book and safely pay your Tour deposit with PayPal. You can also book by phone or print the forms and book by mail:



Download Printable
Tour Brochure



World War II History in Poland - Visit the Wolf's Lair and Auschwitz Memorial
The Wolf's Lair Tour starts and finishes at Berlin International Airport. Features include lots of time at the Wolf's Lair near Rastenburg, Warsaw, Krakow, Auschwitz and Waldenburg in Poland. The Wolf's Lair Tour follows the story of the July 20, 1944 assassination attempt on Hitler's life. We will visit many sites connected to Colonel Stauffenberg and the plot to kill Hitler. The Tour also includes many World War II historical sites in Berlin, Germany. Hitler spent nearly half of World War II (over 800 days) at 'Wolfsschanze' (Wolf's Lair) compound near Rastenburg, which in 1942 contained as many as 80 buildings housing over 2000 employees including massive bunkers for Goering, Bormann and Hitler among others. We spend two days touring Wolfsschanze and the additional OKH (Oberkommando des Heeres) Headquarters at nearby Mamerki (Mauerwald). We'll spend two great nights in fascinating Warsaw to discover the story of its past and the echoes of its Uprisings. This Tour includes two nights in spectacular Krakow, which allows us plenty of time to explore the town and its history. We will visit the most infamous Nazi Death camps in the world: Auschwitz and Birkenau. The Wolf's Lair Tour also includes a visit to one of the 'Project RIESE' Bunkers near Waldenburg (Walbryzch), and the 'Great Escape' POW Camp (Stalag Luft III) in Zagan. We conclude with lots of sites in Berlin, including the Bendlerblock, where Stauffenberg and other members of the German Resistance ultimately met their fate.

Stauffenberg's former home near Berlin, Germany (July 2009)




"Thank you once again for such a wonderful experience both Lauren and I had on your tour, it surpassed all our expectations. We had lots of fun and met some great people, and you went out of your way to make everyone feel welcomed and cared for..."
More Testimonials

Wolf's Lair Tour
May 18 - 31, 2016

May 18: IN FLIGHT - to Berlin Airport

May 19: ARRIVAL IN BERLIN - Tour Welcome
Arrival today at Berlin International Airport and transfer to Berlin hotel for check-in. World War II Tour of Berlin including main sites such as the Reichstag, Chancellory and Bunker sites. Welcome Dinner. Overnight Berlin. (D)

May 20: BYDGOSZCZ - History of Poland
Breakfast, hotel check out and early morning transfer east with an explanation of the history of Poland on the bus en route. Lunch. Continue afternoon transfer to Bydgoszcz for check-in at our hotel. Overnight Bydgoszcz. (B, D)

May 21: MALBORK - From Teutonic Knights to the SS
Breakfast. Check out and transfer to Malbork. Visit the world-famous medieval Malbork Castle and free time for lunch. Afternoon transfer to Ketrzyn and visit the airfield where Stauffenberg fly in and out of the Wolf's Lair on July 20, 1944. Late afternoon check-in at our hotel in Ketrzyn. Dinner. Overnight Ketrzyn. (B, D)

May 22: KETRZYN (RASTENBURG) - Wolf's Lair and OKH
Breakfast. Morning Guided Tour of Hitler's former Wolfsschanze (Wolf's Lair) Headquarters complex. During our tour we will trace the famous assassination attempt that took place in July 1944. Free time for lunch and exploring more of the Wolf's Lair. Afternoon transfer to Lake Mamerki (Mauerwald). Tour Zones "Fritz" and "Quelle" of the former OKH (Oberkommando des Heeres) German Army HQ near the Wolf's Lair. See Stauffenberg's private Barrack at Mauerwald. Transfer back to hotel. Dinner. Overnight Ketrzyn. (B, D)

Exploring bunkers at the Wolf's Lair in Poland (May 2011)
May 23: WARSAW - Poland during World War II
Breakfast and hotel check out. We leave northern Poland this morning and transfer south to Warsaw. On the way, we talk about Germany's rearmament in the 1930s, Danzig, Warsaw and the beginning of World War II. We also discuss the foundations of the Holocaust and its scale in Europe during World War II and after 1945. Late afternoon arrival at our Warsaw Hotel. Check-in and relax before dinner. Special Polish Folklore Dinner and Show tonight in a traditional Restaurant. Overnight Warsaw. (B, D)

May 24: WARSAW - The Ghetto and the Uprising
Breakfast. half-day Guided Tour of historic Warsaw, including the former Ghetto, old Jewish Cemeteries, Ghetto Wall, the Uprising Memorial and many other World War II sites and monuments. Lunch. The Warsaw Uprising lasted two months. The Battle for Warsaw took 250,000 lives. Afternoon visit to the impressive, new 'Warsaw Rising Museum'. Late afternoon and evening at leisure in Warsaw for optional sightseeing, museums or shopping. Dinner on your own. Overnight Warsaw. (B)

May 25: WARSAW - KRAKOW
Breakfast and hotel check out. Transfer to Krakow, a preserved gem of a city unscathed by the battles of World War II. Lunch en route to Krakow. Hotel check in and afternoon orientation of the town center. Free time for optional sightseeing and / or shopping. Dinner. Overnight Krakow. (B, D)

May 26: KRAKOW - The Story of "Schindler's List"
Breakfast. Morning Guided Tour of Kazimierz, Podgorze district and Plaszow Concentration Camp, where the infamous Amon Goeth was once Commandant. We will also visit the former Emalia Enamel Factory that was run by Oskar Schindler during World War II. Lunch. Afternoon free for optional sightseeing or shopping. Dinner. Overnight Krakow. (B, D)

Main Gate to prisoners camp at Auschwitz I (May 2011)
May 27: AUSCHWITZ - Death Camps of the Third Reich
Breakfast and hotel check out. Morning transfer to Auschwitz Concentration Camp Memorial Site. Today we visit Auschwitz I and Auschwitz II / Birkenau, on a Guided Tour of the memorial site. Lunch. Afternoon transfer to Gliwice and visit the local museum. Check-in to our hotel. Dinner. Overnight Gliwice. (B, D)

May 28: PROJECT RIESE - Hitler's Forgotten Bunkers
Breakfast, check out and transfer to Walbrzych (Waldenburg) in the Owl Mountains near the Czech border. Lunch en route. Afternoon visit to a newly opened 'Riese' Bunker. The mysterious Wolf Mountain in southern Poland was chosen by the Nazis as early as 1943 for construction of an enormous underground military city. Discover 'Project Riese' during our Tour of the underground Bunker complex near Walim. Transfer to hotel. Dinner. Overnight Walbrzych. (B, D)

May 29: ZAGAN - The Great Escape
Breakfast. Hotel check out and transfer this morning northwest towards Berlin. Visit the memorial site of the former Gross Rosen Concentration Camp. Continue to Zagan, for a Tour of the former POW Camp 'Stalag Luft-III;' where some of the most daring prisoner escapes took place during World War II. Afternoon transfer into Germany with lunch en route. Arrival at our hotel in Berlin and dinner. Overnight Berlin. (B, D)

May 30: BERLIN - The Battle for Berlin
Breakfast. Morning visit to the German Resistance Museum in the Bendlerblock. Lunch in the city center. Afternoon free time before our Farewell Dinner tonight. Overnight Berlin. (B, D)

May 31: IN FLIGHT - from Berlin Airport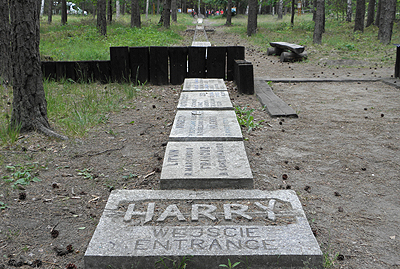 Tunnel 'Harry' marker at Stalag Luft IIIC in Poland (July 2009)




"As usual - you have surpassed my expectations! I really had no idea what Poland would be like, and I was amazed each day. So much to see, and we saw it all! Your Tours are so much fun and luckily everyone else that goes along are so fun to be with..."
More Testimonials

Wolf's Lair Tour
May 18 - 31, 2016

Tour Prices
Tour prices are per person, based on double occupancy.
The Tour price does not include roundtrip airfare to Europe.

Reservation Policy
A completed and signed Tour Reservation Form and a refundable $400 deposit (per person) are required to book Tours. You can book this Tour online, by phone or by mail. (To book online: scroll to the top of this page and click the Book this Tour button). You change adjust the quantity of people on our secure payment pages with PayPal. Payments are made to: ALPVENTURES. Payment in full is due 90 days prior to Tour departure, and must be paid in US Dollars by check. Credit cards are accepted for the deposit only; and cannot be accepted for final payment.

Cancellation Policy
Although Tour cancellations are not anticipated, Alpventures® reserves the right to cancel Tours for any reason, prior to Tour departure date, in which case the entire payment will be refunded without further obligation on Alpventures® part. In the case of Tour Participant cancellation, a full refund will be granted up to 30 days prior to Tour departure. A cancellation fee of 20% of the Tour price will be charged for cancellations between 30 and 20 days prior to departure date and 40% between 20 and 10 days prior to departure. No refunds will be honored within 10 days of Tour departure date.
Download Printable Tour Brochure
---
Copyright 1997-2016 Alpventures®. All Rights Reserved.