Did You Know?
Our website has over 6,000 travel photos of our exciting World War II Tours. View and share our photos online for free - and even comment on the photos, share to social media, or send to a friend's email! Our galleries also have a cool slideshow feature.

» Go to Photo Center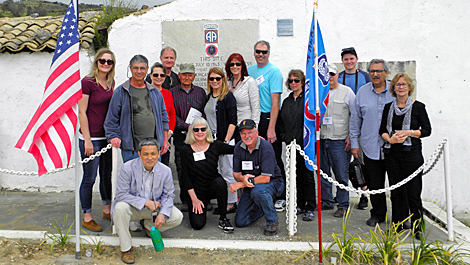 Read Comments from Alpventures Tour Guests

Here is some feedback we have received from our past Tour Guests. Our deepest appreciation and gratitude to all of you who continue to return, time after time, for more of our World War II Tours to Europe and Russia...

Ed B.


"Thank you so much for this Tour. It has been a highlight of my life. You taught me so much history, that it felt like it was feeding my soul. The experience was beyond what I imagined or hoped for... I look forward to our next trip together." (Normandy to the Eagle's Nest Tour, May 2017)

David & Margaret M.

"We want to thank you for an outstanding Tour following in the footsteps of the Monuments Men. The Tour provided excellent accommodation and meals; and we were awed with your personal knowledge of World War II in Europe and loved the stories you recounted... Thank you for a great Tour."

Bill & Pat B.

"We both want to thank you so much for making our wonderful trip happen... I especially want to thank you for your kindness and consideration of Bill in Heilbronn, etc. Not many others would have gone out of their way to do all the extras like you did. We wish you every continued success in all you do..."

Teresa C.

"I rarely find anyone who loves history more than myself, but you definitely have a passion for history that drives you to make these Tours amazing! You listen and are fully present when people talk with you, and allow for people to share their experiences and feelings. Thank you for going above and beyond..."

Dan & Kim M.


"Dan and I are in awe of your wealth of historical knowledge and your ability to create a trip that's like a timeline across Europe. We have such a better understanding of the Holocaust and the perpetrators, victims and the bystanders. Thank you so much and we look forward to our next Alpventures Tour!"

Frank & Debbie N.

"What an amazing trip - far exceeding expectations! Not a Tour Guide reading from a guidebook or reciting a memorized script, Tony is instead a 'Grade A' scholar of WWII who skillfully weaves historical facts with his personal encounters with some who were there... Thanks, Tony; can't wait to do another one!"

Cliff & Tami D.

"You put a lot of time and effort into your trips. You always do your homework and you have such a wonderful way of weaving the local peoples' and Soldiers' stories into the sites and information that you give us. It makes the Tour even more interesting and personalized..."

Bruce & Lynn K.

"In May 2015 my husband and I took the truly excellent Normandy to the Eagle's Nest Tour... This Tour was perfect for us. When I look back on our month in Europe, spending time with Tony (Cisneros) was the highlight of our time in Europe. Tony is exceptionally well-read and knowledgeable on World War II..."

Joseph & Sharon T.


"This has been an amazing trip, one that Joseph and I will never forget. Thank you for sharing so much information about history and World War II and all the highlights about Germany. We will certainly take this with us and share it with family and friends. Your Friends, Joseph and Sharon"

Kent & Debra V.


"Thank you so very much for everything you have done to make our trip so special! This trip has helped Kent to become even closer to his Father, by literally walking in his footsteps on Omaha Beach. These are memories we have for a lifetime - because of your knowledge , expertise, and understanding."

Sherry D.


"An incredibly emotional and educational journey thanks to your fine-tuned orchestration and execution of the multitude of travel details; your conveyance of accurate history intertwined with personal stories from our WWII veterans, which at times made us feel we were actually standing along side our brave soldiers..."

David & Colleen P.


"We would like you to know how much we respect and admire your superior skill as a travel leader; your exceptional level of knowledge; your comprehensive ability in planning and organizing Tours; and finally, your generosity of spirit, at a level rarely encountered in life!"

Don W.

"Tony is a very gifted speaker with a fabulous memory for details of the various battlefields all over Europe; and he is fully able to get to where the battlefield sites are. The hotel accommodations are excellent, as are the meals. This was my fourth tour with Tony and I plan to join him again."

Karen J.


"Thanks for making this my best trip to Germany! You gave us so much incredible information about World War II because you are such a good presenter! I appreciate your careful driving and getting us to all our war sites safely and on time. Thanks also for answering my numerous World War II questions..."

Jim & Loraine K.


"Our traveling lives would not be the same without you, nor would our memories of 5 amazing trips to and around Europe. As for our friendship and all that you have done and been a part of, there are no words... but if we did have to choose one tonight, we would say BRAVO!"

Christine B.

"Thank you so much for another great Tour - yet again... I had put the End the War in '44 Tour as a 'maybe someday' Tour, but you have managed to make it one of my favorites. I truly hope to get the stars to align to see you again in June for the Ruins of the Third Reich Tour..."

Mike R.


"As always, thanks for another great World War II Tour. The newly added stops were some of my favorites. Walking around the Hürtgen Forest was also a unique experience. Hope to see you again in the future. I wish you and your family the best - thank you."

Eilene & Lit D.


"I just wanted to take a moment to thank you again for an amazing trip. Lit and I have traveled quite a lot and have had many good guides through the years, but I can say, without any reservation, that you are the very best we have ever had..."


Matthew P.


"Thanks again for exceeding my expectations with this fantastic Tour. You held my interest every step of the way, as usual - and inspired me to continue researching this fascinating and important topic. Hope we can catch up again soon."


Bob & Della H.


"You let us see and experience all that we were hoping for... and you went so beyond our expectations. Unbelievable, Unforgettable, Awesome! Thank you for making this Tour so much more informative, exciting and more complete than we ever expected!"

Linda J.


"Very impressive. Thank you for sharing the personal stories about the World War II Veterans you have met throughout your Tours. You are truly inspirational - Thanks for keeping their stories alive. The Tour was fantastic..."


Ken & Sharon K.


"Thanks so much for sharing your knowledge, experience and yourself with us on this World War II trip. The content and delivery of the wonderful, and sometimes horrific stories you presented far exceeded our expectations!"


Lowell J.


"Only in the coming days and weeks will our minds begin to process all that we have seen and heard... Walking the beaches of Normandy has been on my "Bucket List" for many years. Thank you for an outstanding job as our Guide."


Louise A.


"These past two weeks have been incredible! I so appreciate the wealth of information that you shared with us on the Normandy to the Eagle's Nest Tour. This has been the 'trip of a lifetime' ...Thank you."


Andrew P.


"Thank you so much for both World War II Tours, and all the effort you put into them. I really enjoyed them and I learned a lot... You truly are what we Aussies call a great Bloke and I look forward to seeing you next year in August for the Tour in Russia..."


Alison D.


"Thanks so very much for your patience and your gift of knowledge. You could not have made a better Tour - they are memories for a lifetime. Maybe one day I'll be back. Thanks again for everything and please find some time for some rest. You deserve it."

Mary Ann H.


"I just wanted to say thank you for a wonderful Tour. It was the experience of a lifetime. You are a very knowledgeable Guide with the patience of a Saint. I have learned a lot and the memories will stay with me forever. Thank you again for everything you did."


Hugh H.


"The Tour was FABULOUS! I loved every minute of it! Getting to some of those places on one's own would be a tough proposition, but with your help and expertise, it was a breeze. I would have to say that Gran Sasso was the high point, but everything was just super!"

John & Clara G.

"Thank you for a wonderful trip. Your knowledge of the World War II Italian Campaign is outstanding, and you are a great Driver."
(Spectrum Custom Tour, September 2011)



Bud & Sandra G.

"We had a wonderful time and sincerely enjoyed the World War II Tour. You deliver an exciting and informative tour. Your extensive knowledge is exceptional. We will be happy to refer others..."
(D-Day & Battle of the Bulge Tour, June 2011)


Doug S.

"Thanks, once again, for a job well done. The mountain-hugging drives, battleground commentary and superior hotels - plus the friendship are all much appreciated..." (Battleground Italy Tour, May 2011)


Glenn C.


"I wanted to express my complete satisfaction with the Russia Tour that I took in August (2010). It was truly a wonderful adventure and the arrangements were flawless. Bravo to you and everyone involved in making our tour the most memorable of my life!"

Kate H.


"Thank you once again for such a wonderful experience both Lauren and I had on your tour, it surpassed all our expectations. We had lots of fun and met some great people, and you went out of your way to make everyone feel welcomed and cared for..."


Heather H.


"Thank you so much for letting us join the Secrets of the Third Reich Tour. I had a great time, and learned and saw a great deal. I truly enjoyed myself, and I appreciate the excellent job you did as our Tour Guide."


Bill C.


"You brought back the Germany of 65 years ago... of centuries ago. You took us through that time tunnel - thank you for that. And thank you for all the personal time you took in answering my individual questions. I plan to send you the information we spoke of..."

Josanne L.

"You have an unusual key to unlocking some of these mysteries. I'm grateful to you for the study you have made of this - and for being the Confidant to so many personal stories. Thank you for all the planning and for sharing your knowledge with us."


Bert C.

"It was such a wonderful opportunity to go on this Tour, and to have such a great Guide as you. I already have the photos loaded on an electronic picture frame - I get to see them in rotation all day... It was a most memorable trip."


Jim D.


"Thank you for developing, planning, and executing a magnificent custom World War II Tour for the Doherty group. It was a once-in-a-lifetime experience sharing a significant event in American history. You are a true professional. Thank you for a job well done."

Jack W.


"I have to tell you this trip exceeded by far my rather high expectations. You are a wealth of knowledge, a gentleman, and you take it the extra mile in every aspect. I certainly hope to be able to come on future Tours with you... Fantastic is all I can say."


Lori & Weldon R.

"This has meant so much to my Dad - and so much to me, to be able to be here with him. Your knowledge is amazing and I learned so much. Thank you for all of your efforts with regards to the passes for the 65th D-Day ceremonies - that truly made this trip!"


Emily P. & Paul M.


"My Dad and I just wanted to say thank you for such a wonderful trip - we could not have dreamed it to be any better. Your enthusiasm and knowledge with regards to World War II history has certainly inspired us to learn all we can!"


Steve C.


"The Tour was everything we could have asked for, and more. The hotels and meals were top notch. I think the thing I appreciate the most, is your professional demeanor and delivery. Thanks again for a great Tour and a great memory..."


Floyd L.


"Thanks for the great trip, and great time! We enjoyed your history lessons and enlightening us on the culture of the countries we visited, and of course all the things about World War II history that we didn't know or understand. It was great traveling with you!"


Darcy R.

"This was my first organized Tour and I was very impressed. Your amount of knowledge on the subjects of WWII and the people and events surrounding the war was very extensive and impressive. I have gained a greater appreciation for Veterans and I had fun."


Beauford "Junior" D.

"After taking a two week World War II Tour, I realized that once wasn't enough. The next year I went for two more weeks. Tony was the ultimate Tour Guide and our business venture formed a wonderful friendship. I can't wait until next year for my next Tour!"


Ruth Ann C.

"Thank you so much for a wonderful Tour. You were just wonderful and so patient and concerned about my father. He talks to someone every day about the trip! I personally have a greater understanding of the war and appreciation for all Veterans after this trip."


Mary Lou B.


"As usual - you have surpassed my expectations! I really had no idea what Poland would be like, and I was amazed each day. So much to see, and we saw it all! Your Tours are so much fun and luckily everyone else that goes along are so fun to be with..."


Mike R.


"Thanks again for another great Tour! Not only did we cover the sites on our itinerary, but some unbelievable extra stops. Keeping us on schedule, handling the driving / traffic, and answering the endless questions is greatly appreciated. Every Tour is unique and special. Your knowledge and love for World War II history is fascinating..."

Jim & Loraine K.


"In our world, it is not legend but fact: Sie sind ein Engel, von Gott gesandt - You are an Angel, sent from God. There is no way to thank you, not even with all the chocolate in Europe. What we would like to do, is set you up with a 1,000 song iPod, and you can just enjoy it, both at home and on the road. Thanks for everything to our wonderful friend."

Tami H.


"I just wanted to thank you again for all your hard work you put into the Tour. You make it all look effortless. You bring History alive and no matter what the subject, you make it interesting. You pay such attention to detail and the group's safety while traveling - from checking our flights to taking us right to the line we need to check in at - I don't know of any other tour company or guide that would do that."

Donald J.

"I think this D-Day Tour is the most interesting and rewarding (Tour) because it was the beginning of the Liberation. Thanks for conducting this Tour over the first week of June - the anniversary date - and thanks for visiting Ste. Mere Eglise on the 6th of June. With the welcome the French people showed and the military vehicles on the beaches, one would think the invasion took place only yesterday."

Don & Lyn A.

"We would like to thank you for the time of our lives. The tour did as Jr. Deese said, Take our breath away. Tony is truly a gifted and sincere tour guide. We learned something new everyday in a very fun way. To sum up the landmarks, and views along the way, 'Priceless!' Thanks again Tony, you are a true friend."

Melissa & Jordan B.


"Once again, you have surpassed our expectations!! Your personal attention to detail along with your enthusiasm, research and knowledge of military history has given us an unforgettable vacation, as well as an indelible insight to the sacrifices made for liberty... Thanks for the memories and always keep Didi close by!"

Michael M.


"This was the first but certainly not the last time (I Hope) that I travel with Alpventures. Tony and Didi did more than exceed any of my expectations. I traveled with my dad, a Veteran and Omaha Beach survivor and he could not say enough great things about Tony, Didi and our trip. Tony, your sense of professionalism is rare in an industry so crowded with people who just go 'by the script'... we truly had a wonderful time."

Bob H. - NeverTooLate.org


"I can't thank you enough for taking such good care of Robbie and Nancy. They had the time of their lives. Robbie said everything was 'top drawer' from the accommodations to the touring bus (and driver). He showed me his Commemorative Medal you gave to him at the banquet on his final evening. I think it means as much to him as one of his Bronze Stars."

Cherry Alice V.

"Wish I could somehow show people through words how fantastic your Tours are and all the exciting and wonderful places you take us to. Everyone really needs an experience like you provide at least once in a lifetime and you have given me two dreams come true with a third coming up! See you in October."


Lou G.

"Alpventures excells as a Tour Company. Our 'Wolf's Lair' trip was very focused and everyone received close personal attention. Tony listened and reacted to our opinions, refining our schedule to best serve our collective interests. The local Guides were outstanding and very informative. It's rare to get more value than you expect, but Alpventures delivers that level of excellence. I plan to travel with them frequently."

Clifford D.


"I have the highest respect for your expertise as a World War II Historian and Tour Guide. The high quality of your Tours have always included excellent site selection and commentary plus visual aids and top-notch lodging... but on our recent Normandy Tour, you set a new standard of excellence. I refer, or course, to the ceremony you arranged to honor my uncle at the American Cemetery above Omaha Beach. You secured the flowers, organized the procession, positioned the participants, directed their movements and handled the photography... you orchestrated the ceremony with the solemnity and dignity one finds only at Arlington. I can't thank you enough."

Richard P.


"I embarked on the Operation Barbarossa Tour as part of research for a book and it provided me with the moments and locations I expected and much, much more. Tony and his Russian partners are highly knowledgeable, friendly and ready to answer all questions. Our hotels were always great and even elegant - I loved the Intourist Hotel in Stalingrad (which is mere meters from Paulus' underground HQ!) - and the overnight train berths were a blast. We had great Tour group of enthusastic people whom I now consider friends. I always felt safe and well cared for on our journeys as we breathed in the sights and history of Russia... Way to go Alpventures!"
---
Copyright 1997-2017 Alpventures®. All Rights Reserved.