---
Southwest UFO Discovery Tour
TOUR 1: Secrets of the Atomic Age and the Search for UFOs in New Mexico: Join the Discovery at Los Alamos, Trinity Site (world's first atomic bomb), Roswell and White Sands.

---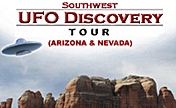 Southwest UFO Discovery Tour
TOUR 2: Experience the Ultimate UFO Tour from Albuquerque to Area 51: Featuring Socorro, Snowflake, Sedona, Grand Canyon, Kingman, Las Vegas, Rachel and Area 51.

---
TOURS COMING SOON
---
Ancient Aliens UFO Tour
Explore the world's most sacred and mysterious places with world-renowned experts, while getting a hands on account of the fascinating Ancient Alien Theory.

---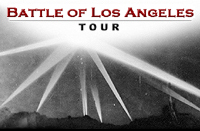 Battle of Los Angeles Tour
Travel back to February 1942 and experience the real story of the Battle of Los Angeles. Learn about the mysterious Foo Fighters encountered by Allied air crews during WWII.

---
Betty & Barney Hill UFO Tour
Join Betty Hill's Niece, Kathleen Marden on a journey to the site of Betty and Barney Hill's 1961 UFO encounter. Follow their abduction route into New Hampshire's White Mountains.


Roswell UFO Tours
Discover the 1947 UFO crash, retrieval, and cover-up at the actual locations where the events occurred in Roswell with Top UFO Researcher, Dennis Balthaser.

Area 51 Tours
Join us on a day trip from Las Vegas to America's legendary top secret military base - Discover Area 51 today!

• Crop Circle Tourist
• Paranormal Australia
• Stargate Edinburgh Tours
GUEST SPEAKERS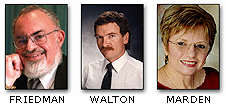 Alpventures® Top Secret UFO Tours offer special guest speakers, including the most recognized experts in UFO Research, Alien Abduction, Aviation, Technology and more... Read More