All-Inclusive 10-Day
Tour includes Flight:
Guest Speakers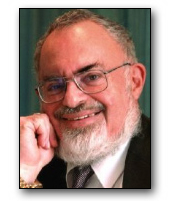 Stanton T. Friedman, MSc.
Nuclear Physicist, Author



Dennis Balthaser
Researcher, Lecturer

Recommended Books



Los Alamos: Beginning of an Era



Crash at Corona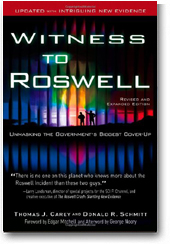 Witness to Roswell

Photos & Documents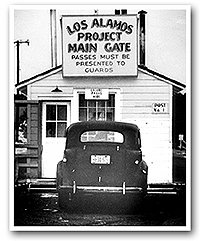 Los Alamos Main Gate in 1943
Photo credit: LANL



Trinity site explosion of the world's first Atomic Bomb on July 16, 1945.
Photo credit: LANL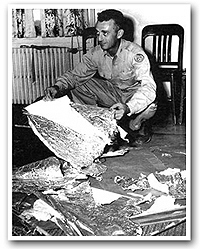 Major Jesse Marcel Sr. at the Ft. Worth press conference holding up pieces of a "weather balloon" for reporters.
Photo credit: Ft. Worth Star-Telegram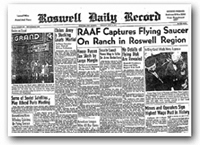 Front page of Roswell Daily Record newspaper on July 8, 1947.
Photo credit: Roswell Daily Record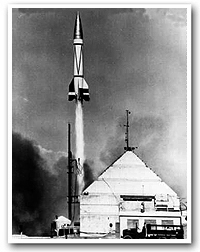 V2 rocket lifts off from White Sands.
Photo credit: WSMR
Secrets of the Atomic Age and the Search for UFOs in New Mexico: Los Alamos, Trinity site, Roswell, White Sands, Spaceport America, Socorro and Albuquerque...

---
WITH STANTON T. FRIEDMAN!

All-Inclusive, 10-Day UFO Tour to New Mexico
• Roundtrip Air from most US Cities on Southwest Airlines
• 9 Nights in wonderful Three- and Four-Star Hotels
• Most Meals: 6 Three-Course Dinners and Breakfast daily
• Transportation in deluxe Motor Coach Bus with A/C
• Professional Tour Director and Special Guest Speakers

Los Alamos: Home of the Manhattan Project
• Learn about UFOs and Foo Fighters during World War II
• Walking Tour of The Atomic City, Los Alamos, New Mexico
• Visit rustic Fuller Lodge and the Los Alamos Historical Museum
• See J. Robert Oppenheimer's house on "Bathtub Row"
• Visit the Bradbury Science Museum (LANL) in Los Alamos
• Guided Tour through Bandelier National Monument

Roswell: UFO Crash and the Roswell Incident
• Visit the International UFO Museum and Research Center
• See many original sites relating to the 1947 Roswell Incident
• Tour of the former Roswell Army Air Field military base
• Visit the Robert Goddard Exhibit at the Roswell Museum
• See Billy the Kid sites at historic Lincoln State Monument
• Overnight at 9,000 feet in the Lincoln National Forest

White Sands: Bombs, Missiles and Spaceships
• Tour of Trinity Site, where the first atomic bomb was tested!
• See White Sands Missile Range Museum and Missile Park
• Tour through majestic White Sands National Monument
• Visit the New Mexico Museum of Space in Alamogordo
• Tour of Spaceport America - world's first commercial spaceport
• Hear the story of Lonnie Zamora's 1964 UFO sighting in Socorro

The Skies over the American Southwest are far from empty. Not long after the world's first explosion of a nuclear device in New Mexico in 1945, a wave of UFO encounters were reported across the USA...

Thousands of sightings were witnessed and documented by civilians and military personnel, many of them pilots. In the summer of 1947, the UFO phenomenon gained momentum when the Roswell-based 509th Bomb Group, the only military unit in the world with nuclear capabilities, issued a press statement claiming it had come into the possession of a flying saucer. Only hours after the military issued the press release, a government-sanctioned cover-up was started that has lasted well over 60 years. Southwest UFO Discovery Tour is a one-of-a-kind, extraordinary opportunity to discover the secrets of the atomic age, and to experience some of the most breathtaking scenery in America. From the doubtful skeptic to the 'Saucer Buff' to the serious UFO Researcher; this unique tour is ideal for anyone interested in learning more about the history of UFOs. See where Manhattan Project scientists developed the secret atomic bomb high atop a mesa in Los Alamos, and visit where they blew it up in a remote corner of the New Mexico desert. Join our Southwest UFO Discovery Tour and learn about the 1945 atomic "Trinity" test, Nazi rockets and experimental aircraft at White Sands, the 1947 Roswell UFO Incident, and much more...

TOUR ITINERARY

IN FLIGHT - to Albuquerque, New Mexico (ABQ)

April 3: LOS ALAMOS - Beginning of the Atomic Age
Pick-up this morning at Albuquerque International Sunport, and transfer north to Santa Fe for lunch at Santa Fe Plaza, the heart and soul of the city. Browse local Native American arts and crafts; and see the famous Palace of Governors, which has been in public use longer than any other building in the United States. Continue our drive to Los Alamos, with a photo stop at Otowi Station. Today during our bus ride to Los Alamos, we will set the stage by summarizing the key events of the Second World War, from 1939 to 1945. Learn about the infamous Foo Fighters encountered by Allied aircraft crews during World War II. Late afternoon arrival at our hotel for check-in. Private visit to the Los Alamos Historical Museum. Special Welcome Dinner tonight. Overnight Los Alamos. (D)

April 4: LOS ALAMOS - Manhattan Project to Atomic City
Breakfast. This morning we begin with a Walking Tour of the Atomic City, including stops at the historic Fuller Lodge, Bathtub Row, Ashley Pond and the Ice House Memorial. Travel back to the days of World War II and hear the story of the top-secret Manhattan Project, as you see J. Robert Oppenheimer's former home and discover where he and other top atomic scientists worked and played. The Manhattan Project began as a small research program in 1939, which eventually employed more than 130,000 people and cost nearly $2 billion at the time. Formally designated as the Manhattan Engineering District (MED), it referred specifically to the period of the project from 1942 - 1946 under the control of the US Army Corps of Engineers and General Leslie R. Groves. Lunch. Afternoon free time visit to the Bradbury Science Museum (operated by Los Alamos National Laboratory). Dinner on your own. Overnight Los Alamos. (B)

April 5: BANDELIER - Ancestral Pueblo People
Breakfast and hotel check-out this morning. Drive to nearby Frijoles Canyon; located in Bandelier National Monument. Learn about the ancestral Pueblo people at the Visitor Center, and enjoy the educational exhibits, introductory video and Western National Parks Association bookstore. The highlight of our visit is the Main Loop Trail hike, where you will see the ruins of Tyuonyi village, original cliff dwellings and hundreds of ancient petroglyphs. Lunch. Afternoon drive to nearby White Rock overlook to take in the panoramic view of the Rio Grande River (weather permitting). Continue to Albuquerque to visit the Museum of Nuclear Science and History. Hotel check-in and dinner. Overnight Albuquerque. (B, D)

April 6: TRINITY SITE - Birthplace of the Atomic Age
Breakfast. This morning we check-out of our hotel and continue our journey south via Socorro to the north gate (Stallion Gate) of White Sands Missile Range. Continue on-post through the security checkpoint to the Trinity Site, where the world's first atomic bomb was detonated at 5:29:45 a.m. Mountain War Time on July 16, 1945. Tour of Ground Zero and the Schmidt/McDonald Ranch house, where "the Gadget" was assembled. Lunch. This afternoon we drive to Corona, and see Wade's Bar - one of the first places "Mac" Brazel talked to locals about a crashed saucer on his ranch. Continue along Highway 275, where we will be close to the "debris field;" and where the U.S. Military cordoned off the entire road in early July 1947. Hear a fascinating overview of the Roswell Incident on our way to Roswell. Hotel check-in and dinner. Overnight Roswell. (B, D) Guest Speaker: Stanton Friedman, MSc., Nuclear Physicist, Author

April 7: ROSWELL - UFO Crash and Roswell Incident
Breakfast. Morning Walking Tour of downtown Roswell, where we will re-trace the events of early July 1947, known today as the "Roswell Incident." Visit the sites as they relate to the key people in the incident at Roswell, and hear the fascinating stories unfold at the exact locations where the events happened. See the former KGFL and KSWS Radio Stations, and see former locations of the Roswell Daily Record and Roswell Morning Dispatch newspapers and much more. Visit to the International UFO Museum and Research Center. Pick up a souvenir in the museum gift shop, or browse the many UFO-themed stores in town. Lunch. Tour of former Roswell Army Air Field (RAAF). Return to Roswell with the rest of the afternoon at leisure and dinner on your own. Overnight Roswell. (B) Guest Speaker: Dennis Balthaser, UFO Researcher, Lecturer

April 8: ROSWELL - R.H. Goddard: Father of Rocketry
Breakfast and hotel check-out. This morning we have free time in Roswell to relax, shop and/or visit the impressive Robert H.Goddard Collection at the Roswell Museum and Art Center. The exhibit displays actual engines, rocket assemblies, and other parts developed by Goddard in the 1930's, when he lived and worked in Roswell. Lunch. Afternoon transfer to The Lodge Resort in Cloudcroft, surrounded by 215,000 acres of the beautiful Lincoln National Forest at 9,000 feet above sea level. Originally constructed in 1899 by the Alamogordo and Sacramento Mountain Railway as a by-product of the railroad's search for timber and railway ties, the Cloudcroft resort quickly became a successful mountain retreat. Check-in at hotel and dinner. Overnight Cloudcroft. (B, D)

April 9: ALAMOGORDO - Museum of Space History
Breakfast. Today you have your choice among a few different activities to fill your day, or you can relax as much as you like at our own private resort. You may wish to join some of the group for the short drive to Alamogordo and visit the New Mexico Museum of Space History, including the John P. Stapp Air and Space Park, International Space Hall of Fame and more. The museum is one of 15 divisions of the New Mexico Department of Cultural Affairs. Another choice would be to visit the National Solar Observatory, located in the nearby village of Sunspot on Sacramento Peak. Or you might prefer playing a round of golf on the private nine-hole golf course, and enjoying the spectacular views of the surrounding landscape. Dinner on your own tonight. Overnight Cloudcroft. (B)

April 10: WHITE SANDS - Bombs, Missiles and Spaceships
Breakfast. Check out of our hotel on the mountain and transfer via Alamogordo to White Sands National Monument, in the heart of the Tularosa Basin. On our way down the mountain, hear the history of the national monument, and the surrounding White Sands Missile Range. Experience the heart of the world's largest gypsum dune field; as we follow the Dunes Drive. Lunch. Continue to the White Sands Missile Range entrance gate. After a thorough security check to enter the post, we will visit the White Sands Missile Range Museum. See the V-2 exhibit and over 50 different missiles and rockets that have been tested at White Sands. Transfer to Truth or Consequences for hotel check-in and dinner. Overnight Truth or Consequences. (B, D)

April 11: SPACEPORT AMERICA - First Commercial Spaceport
Breakfast. Morning Tour of Spaceport America, the world's first commercial spaceport and global headquarters for Virgin Galactic Airlines. Our Tour of the new spaceport will focus on the Terminal Hangar Facility, which offers unique features to the commercial space industry and has an ideal location. Spaceport America is also self-sufficient and built to be environmentally sustainable. Lunch. Afternoon transfer north to Socorro, for hotel check-in and dinner on your own. Overnight Socorro. (B)

April 12: IN FLIGHT - from Albuquerque (ABQ)
Breakfast. Hotel check out, and transfer to Albuquerque Airport. (B)

Call Toll-Free 1 (888) 991-6718 to Book your Spot!