---
---
with UFO Researcher, Stanton T. Friedman!
Secrets of the Atomic Age and the Search for UFOs
in New Mexico: Los Alamos, Trinity Site and Roswell . . .
---

What's Included

All-Inclusive, 5-Day UFO Tour to New Mexico
• 4 Nights in wonderful Three- and Four-Star Hotels
• Most Meals: 3 Three-Course Dinners and Breakfast daily
• Transportation in deluxe Motor Coach Bus with A/C
• Professional Tour Director and Special Guest Speakers

Los Alamos & Trinity Site: The Manhattan Project
• Learn about UFOs and Foo Fighters during World War II
• Walking Tour of The Atomic City, Los Alamos, New Mexico
• Visit rustic Fuller Lodge and the Los Alamos Historical Museum
• See J. Robert Oppenheimer's house on "Bathtub Row"
• Optional visit to Bandelier National Monument
• Tour of Trinity Site, where the first atomic bomb was tested

Roswell: UFO Crash and the Roswell Incident
• Visit the International UFO Museum and Research Center
• See many original sites relating to the 1947 Roswell Incident
• Tour of the former Roswell Army Air Field military base
• Optional visit to the Robert Goddard Museum Exhibit
• Follow the route of the 1947 military recovery convoy
• Enjoy educational presentations by top UFO Researchers

Download the 2014 Tour Itinerary »


---

Southwest UFO Discovery Tour

The Skies over New Mexico are far from empty. Not long after the world's first explosion of a nuclear device in New Mexico in 1945, a wave of UFO encounters were reported across the USA. Thousands of sightings were witnessed and documented by civilians and military personnel, many of them pilots. In the summer of 1947, the UFO phenomenon gained momentum when the Roswell-based 509th Bomb Group, the only military unit in the world with nuclear capabilities, issued a press statement claiming it had come into the possession of a flying saucer. Only hours after the military issued the press release, a government-sanctioned cover-up was started that has lasted well over 60 years. Southwest UFO Discovery Tour is a one-of-a-kind, extraordinary opportunity to discover the secrets of the atomic age, and to experience some of the most breathtaking scenery in America. From the doubtful skeptic to the 'Saucer Buff' to the serious UFO Researcher; this unique tour is ideal for anyone interested in learning more about the history of UFOs. See where Manhattan Project scientists developed the secret atomic bomb high atop a mesa in Los Alamos, and visit where they blew it up in a remote corner of the New Mexico desert. Join our Southwest UFO Discovery Tour and learn about the 1945 atomic "Trinity" test, the 1947 Roswell UFO Incident, and much more.

Call toll-free 1 (888) 991-6718 to book your spot today!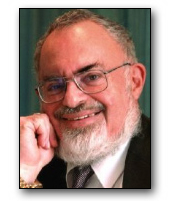 Stanton T. Friedman, MSc.
Nuclear Physicist, Author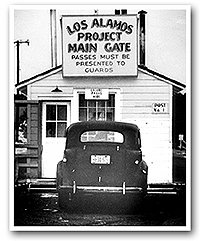 Los Alamos Main Gate in 1943
Photo credit: LANL



Trinity site explosion of the world's first Atomic Bomb on July 16, 1945.
Photo credit: LANL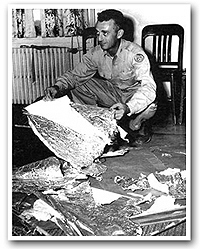 Major Jesse Marcel Sr. at the Ft. Worth press conference holding up pieces of a "weather balloon" for reporters.
Photo credit: Ft. Worth Star-Telegram