Did You Know?
Our website has over 4,000 travel photos of our exciting World War II Tours. View and share our photos online for free - and even comment on the photos, share to social media, or send to a friend's email! Our galleries also have a cool slideshow feature.

» Go to Photo Center








Secrets of the Third Reich Tour

---


Tour Highlights:
• Our Tour includes many sites others do not
• Visit an underground World War II Art Bunker
• Insider Tour of Obersalzberg HQ with special
access to restricted areas of the Eagle's Nest
• Experience counts! We have operated World
War II Tours in Germany for 20 years

What's Included:
• 8 Nights in 3 and 4 Star Hotels
• 6 Dinners and daily Breakfasts
• All transfers by deluxe Motor Coach
• All entrance fees and local taxes
• Full-time Alpventures® Tour Guide
• See the War Crimes Trials Courtroom
• Visit Memorium Nuremberg Trials Museum
• Walking Tour of Nuremberg Old Town
• Tour of former Nazi Party Rally Grounds
• Rally Grounds Documentation Center
• Tour an underground WWII Art Bunker
• Dachau Concentration Camp Memorial Site
• Munich City Tour with Third Reich sites
• Bavarian Folklore Show at Hofbräuhaus
• Free Day in Munich (optional new museum)
• Scenic Drive on the German Alpine Road
• Alpine Headquarters at Berchtesgaden
• Guided Tour of Hitler's "Eagles Nest"
• Obersalzberg Documentation Center
• Visit an underground wartime Bunker
• Tour of beautiful Salzburg, Austria



Tour Dates:
June 13 - 22, 2015
AVAILABLE

Tour Price:
USD $3695 ppdo
USD $3995 ppso
Details | Terms

Tour Features:
9 Day WWII Tour to Bavaria, with Dachau
and Berchtesgaden



Combine this Tour with D-Day & Battle of Bulge Tour, and get $800 OFF!


How to Book:
It's easy to book and safely pay your Tour deposit with PayPal. You can also book by phone or print the forms and book by mail:



Download Printable
Tour Brochure



Learn about the Rise and Fall of the Third Reich in Bavaria, Germany
This is a one-of-a-kind, 9-Day Tour. It starts at Frankfurt Airport and focuses on Bavaria, Germany. Sites include Nuremberg, Dachau, Munich and Berchtesgaden in the Bavarian Alps. The Tour concludes at Munich Airport.

The Rise and Fall of the Third Reich.
It begins at the end of the First World War and covers the events leading to Adolf Hitler's meteoric rise to power in Germany up to the end of World War II. An emphasis is placed on the Holocaust, the Nazi Rally Grounds, National Socialism and Propaganda. We also offer insight to Nazi connections with the old Germanic Orders and the Occult. The secrets of the Third Reich are revealed as we investigate Hitler's rise to power in Munich, the birthplace of the 'Movement'. We will also explain how the Nazi State changed under Hitler's tyrannical Dictatorship.

Visit the Eagle's Nest in the Bavarian Alps.
During our three days at Berchtesgaden, we explore the history of the nearby Obersalzberg Mountain, which was a refuge for Hitler in the early days and the transformation of the mountain into the southern headquarters for the Third Reich. History comes alive as we tour Hitler's underground bunkers at Obersalzberg and travel to the infamous Eagles Nest.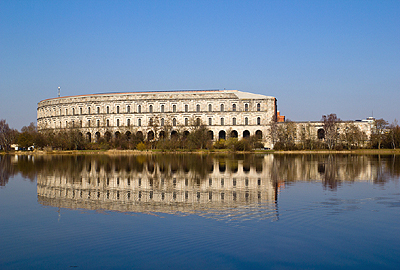 'New' Congress Hall at Party Rally Grounds in Nuremberg, Germany




"I have to tell you this trip exceeded by far my rather high expectations. You are a wealth of knowledge, a gentleman, and you take it the extra mile in every aspect. I certainly hope to be able to come on future Tours with you... 'Fantastic' is all I can say."
More Testimonials

Secrets of the Third Reich Tour
June 13 - 22, 2015

June 13: IN FLIGHT - to Frankfurt International Airport (FRA)

June 14: NUREMBERG - The Nazi War Crimes Trials
Arrival at Frankfurt International Airport this morning and continue southeast to the fascinating medieval city of Nuremberg. We start off with lunch in town and a visit to Room 600 in the East Wing of the Palace of Justice, the Nuremberg Courthouse where the International Military Tribunal was held after the war. Transfer to our Nuremberg hotel for check-in and leisure time. Dinner tonight at hotel. Overnight Nuremberg. (D)

June 15: NUREMBERG - The City of the Party Rallies
This morning our quest takes us to the former Nazi Party Rally Grounds, where Hitler staged his grand propaganda spectacle in front of millions of devoted followers. Our Tour follows the history and development of the Reichsparteigelände, including sites such as the World War I Memorial at Luitpold Grove, the Zeppelin Field and Grandstand, Great Road and Congress Hall where we will visit the newly opened Documentation Center. After lunch we will visit the former Nazi art bunker under the 1000-year-old Königsburg castle. Special Welcome Dinner tonight in town. Overnight Nuremberg. (B)

June 16: MUNICH - The Capital of the Movement
Transfer south from Nuremberg to Munich, the Capital of Bavaria. This morning we begin with a driving tour of Munich, where you will see the most significant Third Reich sites including the Haus der (Deutschen) Kunst, University (home to the White Rose resistance movement), Königsplatz (site of the 1938 Munich Accords), and Marienplatz. Lunch. Afternoon Walking Tour of the old city including the most significant locations of Hitler's unsuccessful 1923 Beer-Hall Putsch. We will also see historical sites connected with the Nazi Party and the occult Thule Society, the sinister group and benefactor behind the German Workers Party. Check-in at our Munich hotel. Dinner. Overnight Munich. (B, D)

June 17: DACHAU - The Model Concentration Camp
Just two months after becoming Chancellor of Germany, Hitler established the Nazis first encampment for the concentration of political undesirables. Dachau evolved into a central camp for most of southern Germany with over 30,000 recorded deaths by the wars end. This morning we will have a Guided Tour the Dachau Concentration Camp Memorial Site before watching the documentary film and visiting the museum (on your own). After lunch we continue back to Munich and relax before dinner. Dinner tonight at the world-famous Hofbräuhaus beer-hall, with a special Live Bavarian Folklore Show. Overnight Munich. (B, D)

Entrance gate to Dachau Concentration Camp (May 2011)
June 18: MUNICH - Free Day for Optional Sightseeing
Today is a full day at leisure in Munich. Optional visit to the new NS-Documentation Center, located right on the spot where the infamous "Braun Haus" used to be at Königsplatz. Other options might include a tour of the beautiful Nymphenburg Castle, visiting one of the city's many art museums, or exploring the beer gardens of Munich. Dinner on your own. Overnight Munich. (B)

June 19: BERCHTESGADEN - Hitler's Alpine Fortress
From Munich we drive southeast to the mountain resort of Berchtesgaden for a driving tour of Obersalzberg Mountain visiting sites such as the former Nazi Platterhof Hotel, Diplomatic Guest House (now a Documentation Center) including a bunker tour, Albert Speer's former residence and Architecture Studio, as well as Hitler's Model Farm. Afternoon check in at our hotel and dinner. Overnight Berchtesgaden. (B, D)

June 20: OBERSALZBERG / KEHLSTEIN - The Eagle's Nest
After Breakfast we begin by descending into the underground tunnel system at Hotel Tüken for an exciting tour of the wartime Bunkers. Morning excursion up Germanys highest alpine mountain road to the infamous Eagle's Nest, formerly Hitler's mountaintop Tea House and conference center. Situated on a high mountain crag 6018 ft. above sea level, the building has been a restaurant since 1953 and maintained by the Berchtesgaden Historical Trust since 1960. We will hear details of its engineering and construction, as well as its use during a Tour of the building. Lunch on the mountain. After lunch you will have leisure time in the village of Berchtesgaden for shopping or sightseeing. Dinner on your own. Overnight Berchtesgaden. (B)

June 21: SALZBURG, AUSTRIA - The City of Mozart
Today we take a short journey over the border to Salzburg, Austria for a walking orientation of the old city. Highlights today include St. Peter's Monastery, the Salzburg Cathedral and the famous medieval Getreidegasse shopping street. Leisure time for lunch and personal interests such as visiting the famous High-Salt Fortress or museum at Mozart's birth house. Afternoon transfer back to Berchtesgaden for optional Terrain Walk on foot to see the sites where Hitler's, Bormann's, and Göring's houses stood. Special Farewell Dinner tonight. Overnight Berchtesgaden. (B, D)

June 22: IN FLIGHT - from Munich International Airport (MUC)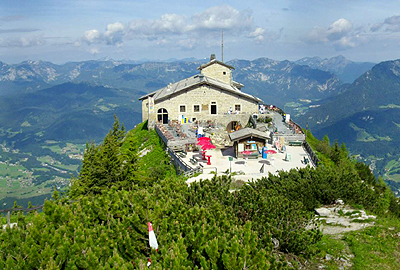 The Eagle's Nest in the Alps above Berchtesgaden, Germany




"I just wanted to take a moment to thank you again for an amazing trip. Lit and I have traveled quite a lot and have had many good guides through the years, but I can say, without any reservation, that you are the very best we have ever had..."
More Testimonials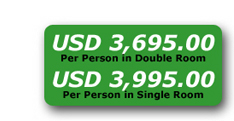 Secrets of the Third Reich Tour
June 13 - 22, 2015

Tour Prices
Tour prices are per person, based on double occupancy.
The Tour price does not include roundtrip airfare to Europe.

Reservation Policy
A completed and signed Tour Reservation Form and a refundable $400 deposit (per person) are required to book Tours. You can book this Tour online, by phone or by mail. (To book online: scroll to the top of this page and click the Book this Tour button). You change adjust the quantity of people on our secure payment pages with PayPal. Payments are made to: ALPVENTURES. Payment in full is due 90 days prior to Tour departure, and must be paid in US Dollars by check. Credit cards are accepted for the deposit only; and cannot be accepted for final payment.

Cancellation Policy
Although Tour cancellations are not anticipated, Alpventures® reserves the right to cancel Tours for any reason, prior to Tour departure date, in which case the entire payment will be refunded without further obligation on Alpventures® part. In the case of Tour Participant cancellation, a full refund will be granted up to 30 days prior to Tour departure. A cancellation fee of 20% of the Tour price will be charged for cancellations between 30 and 20 days prior to departure date and 40% between 20 and 10 days prior to departure. No refunds will be honored within 10 days of Tour departure date.
Download Printable Tour Brochure
---
Copyright 1997-2014 Alpventures®. All Rights Reserved.