Did You Know?
Our website has over 6,000 travel photos of our exciting World War II Tours. View and share our photos online for free - and even comment on the photos, share to social media, or send to a friend's email! Our galleries also have a cool slideshow feature.

» Go to Photo Center








Ruins of the Third Reich Tour

---


Tour Highlights:
• We include many sites others do not,
like Hitler's Adlerhorst and Göring's Carinhall
• We include Nordhausen; and we get special
access to restricted areas of Peenemünde
• Experience counts! We have operated World
War II Tours in Germany for 20 years

What's Included:
• 10 Nights in 3 and 4 Star Hotels
• 7 Dinners and daily Breakfasts
• All transfers by deluxe Motor Coach
• All entrance fees and local taxes
• Tour of Hitler's former FHQ Adlerhorst
• Visit the Wewelsburg Museum 1933-1945
• Audio-Guided Tour of Wewelsburg Castle
• Nordhausen Concentration Camp Dora
• Tour the Mittelwerk V2 Bunker
• Visit the Tank Museum in Munster
• Hamburg City Tour with memorials
• See an intact WWII Flak Tower
• Tour of the U-Boat Memorial near Kiel
• Visit the German Naval Memorial
• See the U995 Submarine Museum
• Guided Tour of Peenemünde Base
• Peenemünde Technical Museum
• Visit former site of Göring's Carinhall
• Berlin City Tour with Third Reich sites
• Tour the inside of a Berlin Flak Tower!
• See the Berlin Topography of Terror Exhibit



Tour Dates:
October 1 - 12, 2018
AVAILABLE

Tour Price:
USD $3795 ppdo
USD $4095 ppso
Details | Terms

Tour Features:
11 Day WWII Tour to Third Reich Sites in Northern Germany



Very Popular Tour!
Don't Delay - Book Today


How to Book:
It's easy to book and safely pay your Tour deposit with PayPal. You can also book by phone or print the forms and book by mail:



Download Printable
Tour Brochure






Explore the Technology and Ideology of the Third Reich in Germany
Alpventures® Ruins of the Third Reich explores the technology and ideology of National Socialism in northern Germany from 1933-1945. The Tour starts at the Frankfurt Airport and concludes 9 days later at Berlin Airport. We start with a new addition to the trip: a Guided Tour of Hitler's FHQ "Adlerhorst" headquarters in the Taunus mountains north of Frankfurt. See Kransberg Castle, the last headquarter for the SS and German Luftwaffe, and Hitler's headquarter area at Langenhain-Ziegenberg and Wiesnthal. We will spend our first night on the Tour at an original Third Reich castle in Erwitte. Our next stop is a guided Tour of Heinrich Himmler's infamous SS Castle at Wewelsburg, near Paderborn. This Tour includes a visit the Dora Concentration Camp and underground armaments factory at Nordhausen. You will have the opportunity to visit the newly opened Documentation Center and see the underground tunnel system on a guided tour. Next, we visit the impressive Tank Museum in Munster with over 40 different tanks from World War II. We also visit Hamburg and the German Naval Memorial, Museum, German U-boat Memorial and U995 Submarine Technical Museum at Laboe near Kiel. Before heading to Berlin, we will spend a half day touring the former German rocket research, production and launch base at Peenemünde.

Experience the most World War II History in Northern Germany.
The last three nights of the Tour are in Berlin. We see all the German Capital has to offer during our stay, including the main former government buildings (Reichs Chancellory site, Goering's Luftwaffe, Gestapo Headquarters). We spend a day touring the city and we'll also see Checkpoint Charlie, Brandenburg Gate and the Reichstag building, among other city highlights. You can also book a later return flight home and spend a few more days in Berlin, or somewhere else. Book your hotel rooms and private tours and transfers on our website, or contact us for details.
"This was my first organized Tour and I was very impressed. Your amount of knowledge on the subjects of World War II and the people and events surrounding the war was very extensive and impressive. I have gained a greater appreciation for Veterans and I had fun."
More Testimonials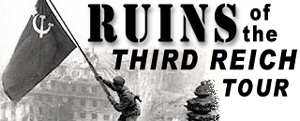 Ruins of the Third Reich Tour

October 1 - 12, 2018


October 1: IN FLIGHT - to Frankfurt International Airport

October 2: ADLERHORST: Hitler's FHQ Headquarters
Arrival at Frankfurt International Airport this morning. We start off with a transfer to the north side of Frankfurt, into the Taunus Mountains. Morning Guided Tour of Hitler's FHQ "Adlerhorst" near Ober-Moerlen / Bad Nauheim. See one of the final headquarters for Hitler, the SS, the Luftwaffe and the remains of various war relics and bunkers. Lunch. Afternoon transfer north with a break en route to Erwitte, located about 30 minutes west of Paderborn. Hotel check-in and relax before our special Welcome Dinner tonight. Overnight Erwitte. (D)

October 3: PADERBORN: Himmler's Castle at Wewelsburg
Breakfast and hotel check-out this morning. Guided Tour of Wewelsburg Castle. The Tour includes a visit to the Wewelsburg Museum and historical exhibit, Wewelsburg 1933 - 1945. We will also see the inside of the castle, the North Tower 'Honor Hall' and Crypt. Lunch. Afternoon transfer to our hotel in Braunlage. Dinner. Overnight Braunlage. (B, D)

October 4: NORDHAUSEN: The Secret Weapons Factory
Breakfast. Morning Guided Tour of the infamous Nordhausen Concentration Camp Dora / and Mittelwerk underground armaments tunnels where the Nazis produced V1 and V2 weapons during World War II. Free time at the Documentation Center. Continue to the town of Nordhausen for lunch. Afternoon transfer back to our hotel in Braunlage and relax before dinner. Dinner on your own tonight. Overnight Braunlage. (B)

October 5: MUNSTER: The Panzermuseum (Tank Museum)
Today after breakfast and hotel check out, our quest takes us north to Munster. Lunch. Afternoon visit to the impressive Panzrermuseum (Tank Museum) in Munster, with over 600 different tanks and armored vehicles (including 40 from World War II). Late afternoon transfer to our hotel for check in and dinner. Overnight Munster. (B)

October 6: HAMBURG: Third Reich History of Hamburg
Breakfast, hotel check-out, and transfer north to Hamburg this morning. Today we have a City Tour of Hamburg, including historical highlights and Third Reich Sites such as the remaining massive FLAK Tower at Heiliggeistfeld. We will also see the famous Hamburg Harbor, Speicherstadt and Blohm and Voss Shipyard, where the Bismarck was built. Lunch. Afternoon transfer to Kiel on the Baltic Sea for hotel check-in and dinner. Overnight Kiel. (B, D)

October 7: KIEL: German Naval Memorials and U995
After Breakfast, we begin with a short journey to Laboe, where we visit the German U-Boat Memorial at Moeltendorf and the German Naval Memorial at Laboe. We will also be going to the top of the Memorial to enjoy the beautiful view of the Kieler Fjord. A highlight of the day is touring the U995 Type VIIC Submarine The U995 entered service in September 1943. Its area of operation was the North Sea and its home port was Narvik. Later she returned to lay mines off Novaja-Semlja and torpedo ships off the coast of Murmansk. Late afternoon drive back to our Hotel in Kiel. Dinner. Overnight Kiel. (B)

October 8: PEENEMÜNDE: Hitler's Secret Weapons
Breakfast and Hotel check out. Transfer today from Kiel to Peenemünde. Lunch. Afternoon arrival and tour of the infamous secret base, where Nazi scientists were working on Hitler's secret weapons programs during World War II. Private tour of the Peenemünde Technical Museum and Peenemünde East, including stops at the ruins or sites of many of Wernher Von Braun's team; as well as the site of the former Concentration Camp and local cemetery. After nearly a full day in Peenemünde, we will transfer to our nearby hotel for check-in and dinner. Overnight Peenemünde. (B, D)

October 9: CARINHALL: Göring's Country Palace
Breakfast and check out of our hotel this morning. Transfer south to the Templin area for lunch. Enjoy an afternoon Guided Tour of Carinhall, the former country estate of Reichsmarschall Hermann Göring. See the old entrance gate and guard houses, as well as the site of the former estate and guest homes. You will also visit the spot where Carin's (Göring's first wife) tomb was located on the edge of the lake. Continue to our nearby hotel, the actual former guest house at Carinhall. Dinner. Overnight Schorfheide. (B, D)

October 10: BERLIN: Capital of the Third Reich
Breakfast. Check out of our hotel and continue south to Berlin city center for a City Tour, including the highlights of Berlin's Third Reich History with stops at Brandenburg Gate, former Reichs Chancellory, Reichstag, Luftwaffe and Propaganda Ministries and the site of Hitler's "Führerbunker". Late afternoon check in at our Berlin hotel. Dinner. Overnight Berlin. (B)

October 11: BERLIN: The Battle for Berlin
Breakfast. We will spend the morning at the former GESTAPO headquarters building (free time at the Topography of Terror Exhibit and/or Checkpoint Charlie). Lunch. This afternoon we have a special Guided Tour of the Berlin FLAK Tower at Humbolthain Park. The FLAK (Anti-Aircraft) Towers were also used as air-raid shelters, and each could hold up to 15,000 people. Only two remain in Berlin, both were partially demolished at the end of the war. The Humbolthain Tower is the best preserved, and we will get to see the inside of it and enjoy the panoramic view of downtown Berlin from the roof. Late afternoon transfer back to our hotel and relax before our Farewell Dinner tonight. Overnight Berlin. (B, D)

October 12: IN FLIGHT - from Berlin International Airport



| | |
| --- | --- |
| Wewelsburg Castle near Paderborn, Germany | U995 Submarine at Laboe, Kiel, Germany |
| | |
| --- | --- |
| V1 and V2 in Peenemünde, Germany | Brandenburg Gate in Berlin, Germany |




"What a wonderful Tour! Above and beyond what we expected.
We would be very interested in another trip in the near future..."

More Testimonials



Ruins of the Third Reich Tour

October 1 - 12, 2018


Tour Prices
Tour prices are per person, based on double occupancy.
The Tour price does not include roundtrip airfare to Europe.

Reservation Policy
A completed and signed Tour Reservation Form and a refundable $400 deposit (per person) are required to book Tours. You can book this Tour online, by phone or by mail. (To book online: scroll to the top of this page and click the Book this Tour button). You change adjust the quantity of people on our secure payment pages with PayPal. Payments are made to: ALPVENTURES. Payment in full is due 90 days prior to Tour departure, and must be paid in US Dollars by check. Credit cards are accepted for the deposit only; and cannot be accepted for final payment.

Cancellation Policy
Although Tour cancellations are not anticipated, Alpventures® reserves the right to cancel Tours for any reason, prior to Tour departure date, in which case the entire payment will be refunded without further obligation on Alpventures® part. In the case of Tour Participant cancellation, a full refund will be granted up to 30 days prior to Tour departure. A cancellation fee of 20% of the Tour price will be charged for cancellations between 30 and 20 days prior to departure date and 40% between 20 and 10 days prior to departure. No refunds will be honored within 10 days of Tour departure date.




Download Printable Tour Brochure

---
Copyright 1997-2017 Alpventures®. All Rights Reserved.