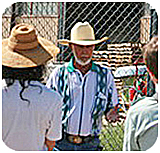 Tour Dates
Roswell UFO Tours are offered twice daily, from Monday through Friday, starting at 9:00 am and 1:00 pm. Unfortunately, we do not offer the Tour on Saturdays or Sundays, sorry.

Tour Features
• Private Tours - Your Group
• UFO Tour, Expert Guide
• 1 Price for up to 4 people
• Transportation is Included
• Hotel Transfers on request
• See over 20 Roswell sites
• Families, Kids welcome

Make Contact
Still have Questions?
Please send us an email at info@roswellufotours.com or give us a call today at (844) UFO-TOUR for further questions or concerns.
---
Roswell UFO Tours is
Licensed, Insured, and Certified in Roswell, NM
---
Read our Frequently Asked Questions


Does the Roswell UFO Tour visit the crash site?
No. There are at least three different crash sites connected to the July 1947 UFO incident at Roswell. The most famous of the sites is the so-called "Debris Field," which is located closer to Corona, than Roswell, New Mexico. The site is on BLM (Bureau of Land Management) land, but is only accessible by traveling through private ranch property. Other sites, such as the "impact" site where the craft finally came to rest, are located on private land and are not accessible to the general public. On our Roswell UFO Tour we will show you where the incident unfolded in the town of Roswell and the former Roswell Army Airfield; in addition to explaining the significance and locations of the actual crash site(s).

We have 5 or more people. Can we still get a Tour?
Roswell UFO Tours are conducted in a vehicle with a maximum capacity of 4 passengers (adults and children combined). Our liability insurance only allows us to take up to four people at a time. We apologize for the inconvenience, but we can only take up to four people per Tour (No exceptions). Also, we cannot conduct the tour in your private vehicle due to insurance restrictions, sorry. We don't add other people to your tour, and we can't add you to someone else's tour.

We don't have 4 people. Can we get a reduced rate?
All Roswell UFO Tours are private - that means your group only. We do not add other people to your tour, and we cannot add you to someone else's booked tour. The cost for the tour is $100 (for up to a maximum of 4 people per group) and the price is non-negotiable. Due to liability reasons we cannot take more than four people per tour. Please read our reviews on Trip Advisor to see what people around the world are saying about our Tour.

What does the Roswell UFO Tour cost, and what's included?
The Roswell UFO Tour includes comfortable transportation (with air conditioning) for up to four people, and lasts about two hours. The tour price is $100 (including up to four people). The tour includes about 20 sites in the city of Roswell and former Roswell Army Airfield connected to the famous 1947 Roswell UFO Incident. Your private Tour Guide is Dennis Balthaser, a nationally-known UFO Researcher and the top local researcher in Roswell, New Mexico.

Can we bring our Dog or other Pet on the Tour?
No. Unfortunately, our insurance policy prohibits us from allowing animals of any kind on the Roswell UFO Tour. Please make necessary arrangements in advance to have a family member or friend watch your pet during the tour. Please note that it gets very hot in Roswell during the summer months, and pets should never be left alone in your vehicle. For local pet sitting services, try the Roswell K-9 Ranch or the Rocky Point Ranch LLC.

How do I book a Roswell UFO Tour?
First, please check our calendar for current Tour Availability. If your desired date and time are available, click the "Book this Tour" link and enter the number of people in your group, time, and your requested date for the tour. Next, click the "Pay Now" button to be directed to our secure checkout with PayPal, the trusted leader in online payments. How PayPal Works

What happens after I book a Tour?
Upon successful completion of your online tour payment via PayPal, you will receive an email receipt of your order and we will confirm your tour reservation within 24 hours - all Roswell UFO Tours are based on current availability and are not guaranteed until you receive confirmation from us. Our confirmation will include meeting point details for your tour booking.

What if I need to change the Tour date or time?
All Roswell UFO Tours are based on current availability - and the tour dates book up well in advance. We can change your previously booked tour date or time, only if your new tour slot is available. If we cannot make your desired change, we will refund your full tour payment.

Can we cancel a Tour, after booking it?
We understand that travel plans can (and often) change. All tour cancellations must be in writing. In the case of Tour Participants' cancellation, a full refund will be granted up to 24 hours prior to tour departure. No refunds will be honored within 24 hours of tour departure. For more information, please read our full Tour Booking Terms and agreement.