Area 51 Tours with Top Researchers

About the Area 51 Experience
What do you believe? Ultra-secret "black" projects? Man-made or extraterrestrial UFOs? Secret Government science and advanced technology, or little green men? The stories about Area 51 are as varied as the remote desert landscape where it is located. What in the world is going on at America's most infamous top secret military base? Ultimately, you will have to decide for yourself. Our goal is plain and simple: We want to provide you with a truly unique experience at the edge of Area 51. Join us for an "inside look" at the base and hear the many different perspectives on this American Enigma. We guarantee a fun and memorable experience, while gaining a better understanding of the mysterious base at Groom Lake. Top Secret Tours presents the ultimate Area 51 Tour - an educational and exciting experience with the leading Area 51 experts... See it for Yourself!

Our Accommodations in Rachel
A trip to Area 51 is not complete without an overnight stay at the Little A'le'Inn, which is a truly unique establishment. Pat (owner) has been in business for over 20 years providing food, lodging, and a friendly staff to make your visit a pleasant one. This is not a big, modern hotel like you will find in Las Vegas, but a small, quaint and incredibly charming motel that offers non-traditional lodging. Note: The Little A'le'Inn in Rachel has shared bathrooms.

What's Included in Trip Cost
We are currently working on Tour dates and prices. The basic tour package includes a full-day guided Area 51 Tour and evening skywatch (including lunch, dinner, and overnight accommodation in Rachel), breakfast in the morning and transportation throughout. If you are coming from out-of-town, you can book additional hotel nights (in Las Vegas).


• Your Tour is Private - your group only!
• Fully-Guided Tour with local Experts
• Custom Groups (6 or more people)
• Comfortable Transportation with a/c
• Full Day Tour (length is 10 Hours)

• Tours Include the Area 51 Exhibit
• Your Hotel Transfers are Included
• Lunch, Water and Snacks Included
• Perfect for Families (Kids Welcome)
• Rachel Overnight Tours: Coming Soon


Included Tour Features:
• 2 Days / 1 Night Accommodation in Rachel, Nevada
• Area 51 Travel Packet with helpful pre-trip Information
• Three Meals Included: Lunch, Dinner and Breakfast
• Comfortable Transportation is included throughout
• Learn the history and hear the stories about Area 51
• Get your photo by the "Extraterrestrial Highway" sign
• Enjoy exciting Area 51 Skywatch at the Black Mailbox
• Learn about and use advanced night vision equipment
• Listen to air traffic over Groom Lake on radio scanners
• Stay overnight at the famous Little A'le'Inn in Rachel
• Go to the security perimeter - visit the edge of Area 51!

Tony Cisneros
Area 51 Tour Guide
In 1997, Tony founded Alpventures, a travel company specializing in History Tours to Europe, Russia, and the USA.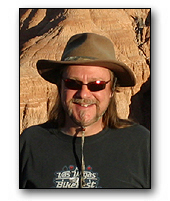 Joerg Arnu
Area 51 Researcher
Mr. Arnu is a twelve-year Area 51 research veteran and founder of the Dreamland Resort, the largest and most comprehensive source for information on Area 51, Black Projects and the Nellis Ranges. Mr. Arnu and his esteemed team of researchers know more about what really goes on at the top secret Groom Lake base than anyone else on the outside.