Contact the Juarez Canyon Team
Fill out the form and click the submit button to send us your message. Please allow at least 24 hours to respond, although we will usually get back to you sooner. Thanks for your comments or feedback. Click here to see The Way to Juarez Canyon



Juarez Canyon Recommends: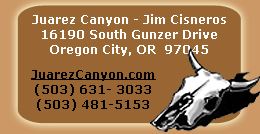 Online Rental Request Form
Submit your request to Juarez Canyon for desired rental date availability and rates...