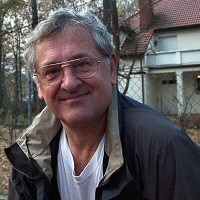 My name is ANDRZEJ BAKALARSKI, but everybody calls me "ANDY", and I used to guide tourists since 1975 .
My origin is polish but I speak english and german. I also speak some russian.
I specialise in s.c. cross-tours - as we call tours starting e.g. in Berlin and going through eastern Europe - Czech Prague, Hungary with Budapest, ending in blue Danube town -Vienna!
I work on freelance basis - colaborating with some biggest tour operators in Poland, also can be hired by individual tourists e.g. for family tours, roots seeking individuals etc...


I own an luxury Van /Peugeot 807 / with Air condition, so no matter what the distance and Your plan - I can take You on the tour or pick You up from any airport and deliver safely to desired destination!

Let me know what You need !
I'll advice the best solution to Your plan!!

You can contact me 24 hours through internet -
my e-mail is : andrew1946@wp.pl
or by fax: +48 22 622 17 41
or just give me a call to my mobile: +48 606 835 222
In case of inquiry allow 48 hours for an answer.
I look forward to hear from You!!!
Conditions negotiable. Official quide. Licence No 4111.
All rights reserved.